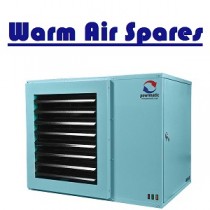 Warm Air Spares
Welcome to our Warm Air Spares page. Here you can find spare parts from leading manufacturers of Warm Air wall mounted and suspended Unit Heaters and floor standing Cabinet Heaters. To navigate, please select from the manufacturers below then click on the corresponding range of heater you require spares for.
Warm Air Heaters work by convection of air passing through a heat exchanger and circulating into a room. This is the most conventional method used in commercial and industrial premises where water systems are impractical due to size or safety.

Having trouble finding what you are looking for? Call us and we will do our best to help you.
If you require a new heater, we deal directly with the manufacturers to provide a competitive price and can place what you require on order, or to arrange a site survey by a company representative.