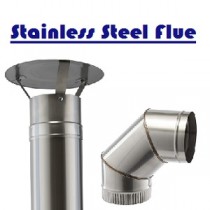 Stainless Steel Flue
All our Stainless Steel Flue products are constructed of 0.5mm 430 grade robust stainless steel allowing for use on appliances of most fuel types including gas, oil, wood and approved solid fuels. Not suitable for Wood Biomass fuel burners due to high sulphur content.
Can't find what you are looking for?
We can supply other Stainless Steel flue products to order, including 12" diameter flue and Flue Increasers of varying sizes.