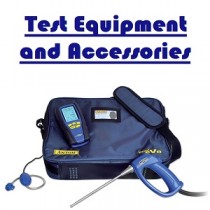 Test Equipment and Accessories
Spares and equipment for all your HVAC needs including pressure meters, temperature readers and exhaust gas analysers.
Need a repair/calibration on your analyser?
We deal directly with manufacturers to offer annual service/calibration and a full range of repair services, please email us to find out more/book your equipment in with us.
For quality purposes and peace of mind we do not stock flue gas analysers on the shelf. This is due to the limited shelf life of the cells and the calibration certificate that expires after 12 months. By purchasing through us we can guarantee you will have a brand new analyser with fresh cells and a full 12 months certificate of calibration. For this reason please allow 3 to 5 working days for your analyser to arrive. If you have any queries please contact us.